Red Bluff Pickles & Provisions
Regular price
Sale price
$14.00 CAD
Unit price
per
Sale
Sold out
We are pickle fanatics. We love pickles of all sorts - sweet, sour, spicy, hot - we love them all! Try our Sweet Ginger Mustard Pickles along side your favorite cold cuts. As with all our pickles, they are made with locally grown produce. In this case -  cucumbers, onions, peppers and cauliflower, vinegar, sugar and dry mustard blended with just the right amount of spice. Our grandmother always had a big pickle tray on her Sunday table, loaded with all the pickles she canned during the summer. We invite you to step back in time and try our Old Time Sweet Ginger Mustard Pickles!

Available in 500ml jars.
Share
View full details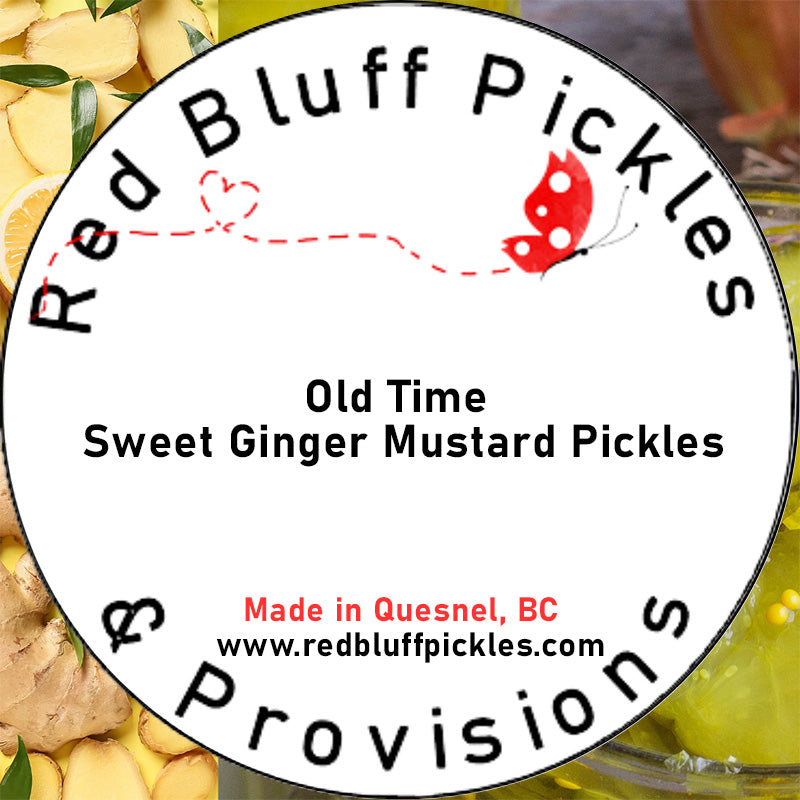 What's Cooking?
Can I use my pepper jelly in cooking?

Yes, by all means! Pepper jelly makes an incredible glaze for meats, fish and vegetables. Try brushing pepper jelly on a slab of seasoned salmon before baking it in a 425F oven for about 10 minutes, (depending on the thickness of your fish). When it is done, run it under the broiler for about 2-3 minutes to finish.
What can I do with the little bit of pepper jelly I have left in my jar?

Make a quick vinaigrette to dress up a simple salad of leafy greens by adding a little oil, vinegar, salt and pepper to the remaining pepper jelly. Add a few berries or some seeds and toss to coat everything lightly before serving.
Can I bake with pepper jelly?

Absolutely! Get creative in your kitchen. Try making a sharp cheddar shortbread thumbprint cookie and fill the center with any of our pepper jellies for a sweet and savory appetizer.

Or even easier, line mini tart tins with ready made puff pastry, add a small cube of cream cheese to each tin and top with a teaspoon of pepper jelly. Bake according to the directions on your puff pastry box.