Red Bluff Pickles & Provisions
Regular price
Sale price
$17.50 CAD
Unit price
per
Sale
Sold out
Raise your hands if you looooove Cocktails or Mocktails. Our Farmers Market customers sure do! Available beginning November 25, 2023.

Make cocktails like a professional mixologist with our Gin Citrus Explosion Cocktail Infusion Kit.  Our kits are suitable for holiday celebrations and all types of entertaining, and for simply enjoying anytime you like! Take the stress out of entertaining by preparing your infusions ahead of time.
No matter what time of year it is, we believe our cocktail infusions will evoke memories of tropical getaways and warm summer days. You will find a mix of delicious natural citrus flavours, sweet pineapples, and juicy cherries in our Gin Citrus Explosion Cocktail Infusion Kit. If you love cocktails or you are looking for the ideal gift for a cocktail lover, our Gin Citrus Explosion Cocktail Infusion Kit is sure to please.
Ingredients:
Each infusion kit comes with one food grade infusion bag, dehydrated pineapple slices, dehydrated orange slices, dehydrated lemon slices, dehydrated lime slices, dehydrated cherries and pure raw cane sugar. Also included is a package of dehydrated orange wheels for garnishing your cocktails. We always use only the freshest ingredients and never use any preservatives.

Directions:
A one litre glass jar with a tight-fitting lid makes an ideal container for infusing. We like to use a mason jar. You could also recycle a one litre pickle jar if you like. Just be certain it is scrupulously clean.
Put the infusion bag with it's contents into your glass container. Set the bag of garnishes aside for later use.
Add 2 cups of Your Favourite Dry Gin to the infusion vessel, making certain the infusion bag is fully covered. If it is not covered, add a little additional gin until the bag is submerged.
Close the jar with the lid and set it on your counter for 3-6 days. Be sure to give the jar a shake a few times a day to be certain flavours are dispersing in the liquid.
After a minimum of 3 days has passed, remove the infusing bag. We suggest placing the bag in a fine mesh strainer over a bowl. Squeeze the contents of the infusion bag to release any liquid.
Remove the bag from the strainer and discard, then pour the contents of your jar into the strainer to remove any bits of fruit that may have escaped the jar.
Wash your jar and pour the infused liquid back into the jar.
Put the infused alcohol into the refrigerator until read to use.
Storage:
Your Citrus Gin Explosion Cocktail infusion will keep in the fridge for at least 6 months and will make 8 – 10 cocktails, depending on how strong you make them.
Serving Suggestion:
Put 2 cubes of ice into an Old Fashioned or Rocks glass and then pour over a 1 ½ oz shot of Gin Citrus Explosion Cocktail infusion. Top with your favourite tonic water, flavoured carbonated water, or Prosecco, and garnish with an orange wheel from the garnish package.

Mocktails anyone? All our infusion kits make delicious mocktails for those times when you prefer a Zero Alcohol beverage.  We suggest you infuse your kit in your favourite sparkling water or juice and then top with additional sparkling water or juice.
Share
View full details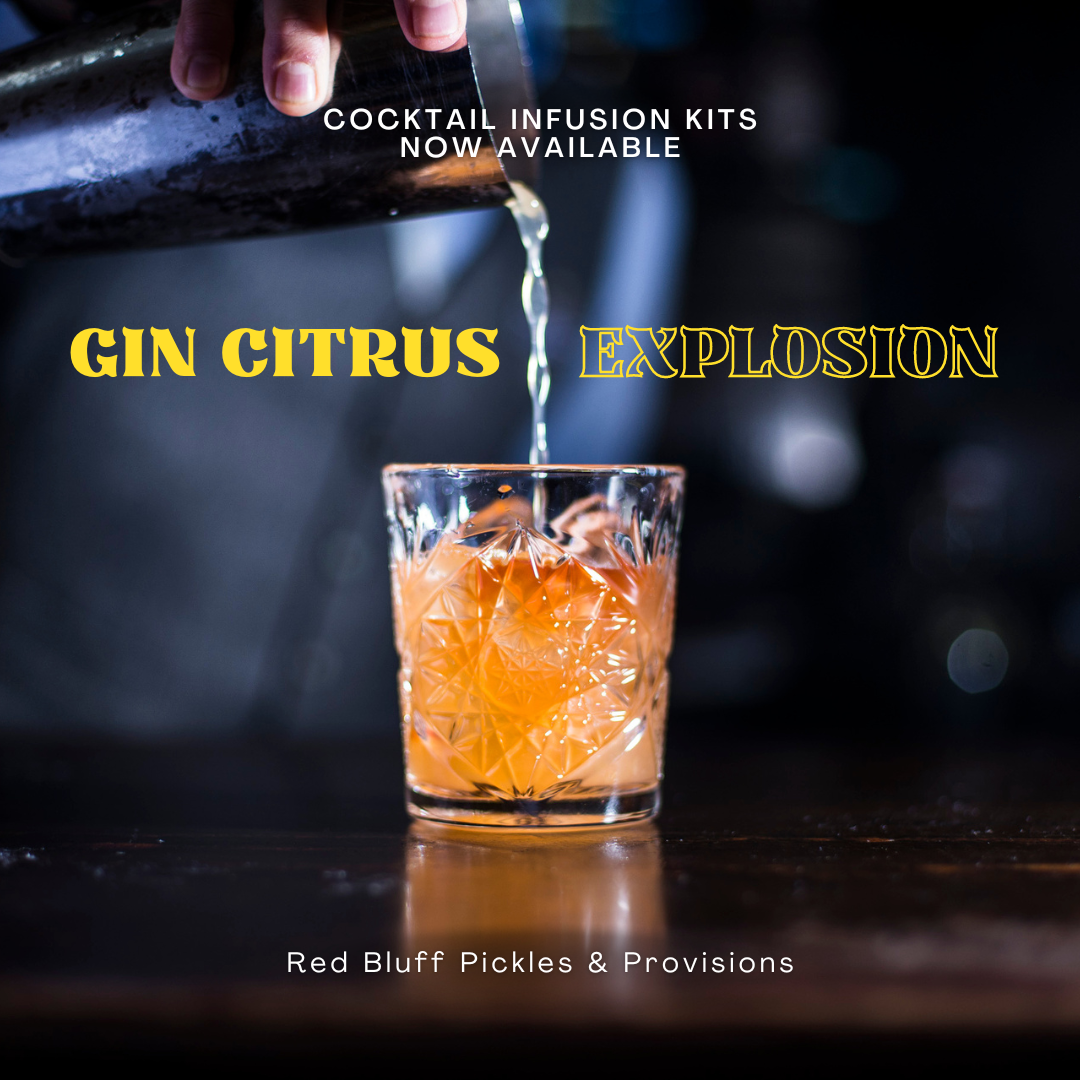 What's Cooking?
Can I use my pepper jelly in cooking?

Yes, by all means! Pepper jelly makes an incredible glaze for meats, fish and vegetables. Try brushing pepper jelly on a slab of seasoned salmon before baking it in a 425F oven for about 10 minutes, (depending on the thickness of your fish). When it is done, run it under the broiler for about 2-3 minutes to finish.
What can I do with the little bit of pepper jelly I have left in my jar?

Make a quick vinaigrette to dress up a simple salad of leafy greens by adding a little oil, vinegar, salt and pepper to the remaining pepper jelly. Add a few berries or some seeds and toss to coat everything lightly before serving.
Can I bake with pepper jelly?

Absolutely! Get creative in your kitchen. Try making a sharp cheddar shortbread thumbprint cookie and fill the center with any of our pepper jellies for a sweet and savory appetizer.

Or even easier, line mini tart tins with ready made puff pastry, add a small cube of cream cheese to each tin and top with a teaspoon of pepper jelly. Bake according to the directions on your puff pastry box.